The Anchor, Port Bannatyne
Community Share Offer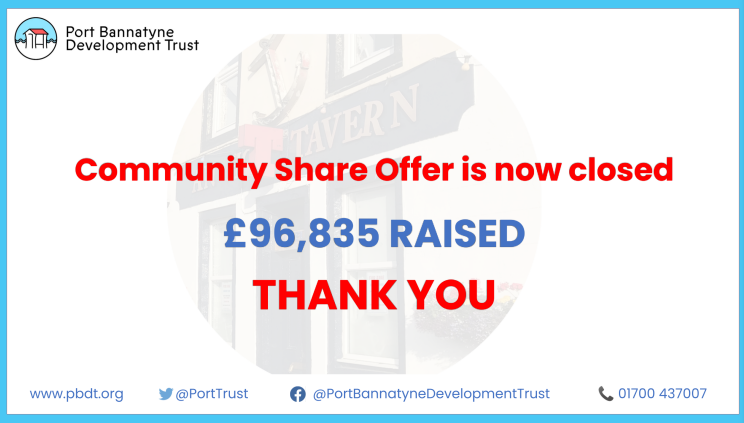 Our Share Offer is now closed.
Our thanks to everyone who took part in the Community Share Offer, we couldn't have achieved so much without your support.
Be a part of this exciting opportunity to reopen The Anchor as an amazing pub owned and run by the community for the benefit of all who live in and visit Port Bannatyne.

In October 2021, the Scottish Land Fund announced that it would back our bid and provide the money to buy The Anchor, subject to a successful Community Share Offer to raise funds to cover renovations and working capital.

We are now excited to launch this Community Share Offer, giving you the opportunity to become a part owner of The Anchor.  Raising £50,000 allows us to go ahead and get The Anchor back open, BUT WE WOULD LIKE TO RAISE UP TO £105,000 TO ENABLE FULL REMODELLING AND RENOVATIONS OF THE PREMISES.

As well as the pub, the project will include:

The redevelopment of 34 Marine Road as a flexible community space for up to 20 people
A garden area to the rear.
Profits being reinvested or used to support future improvements to the village and its facilities.

Scottish Land Fund requirements mean we have to ensure that most members live in or around Port Bannatyne (ie voting at the Port Hall) so that local people remain in control. If you live here please join here now for a minimum one-off cost of £25.

We hope to be able to accept all eligible applicants, but the number of local members will directly affect the number of investments we can take from non-residents. So once shares have been allocated to village residents, the Trust has committed to prioritising applications for £200 or more of shares from other island residents and second home owners, and applications for £1000 or more of shares from other supporters.

The documents below set out the details of the share offer:

Share Offer Prospectus

Business Plan

Community Benefit Society Rules
To apply for shares please select the appropriate application form from the list below, then:
1. Allow the form to load
2. Click on the download icon
in the top right hand corner
3. Open the downloaded PDF file
4. Complete the requested information
5. Save the completed form to your device
6. Finally, return the completed form via email to admin@pbdt.org or pop a printed version in the post

Type A application form (Port Bannatyne residents)

Type B application form (Non-residents)
Type B application form (Corporate)


Please also see our Share Offer Frequently Asked Questions page.